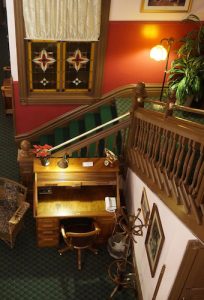 Ever wondered what was up in those beautiful buildings around Port Townsend? Ever wanted to wander the hallways and ask about the architecture? Well, now's your chance!
Join us for the Insiders' Historic Building Tour, your ticket inside four of Port Townsend's cornerstones. Tour these splendid edifices with docents who can offer the inside scoop on when and why, who and how.
Sunday, April 2 at 11:30am and 1:00pm
For the 11:30 tour, meet at City Hall, East side (facing Water Street). 540 Water Street is the address, look for the Historical Society entrance.

For the 1:00 tour, meet at the Hastings Building, 839 Water Street.
Please arrive at least ten minutes before your tour time in order to unite with your guide and ensure an on-time departure.

Tickets are $10 ($5 kids) and are available here

Note: Tickets are "will-call", not printed. After purchasing, your name will be on the docent's list.
Your tour guide, assisted by knowledgeable docents, will take you around and inside three of Port Townsend's grand old Victorian buildings.
Your tour includes:
The Kuhn Building 1892

The Hastings Building 1889

City Hall 1892